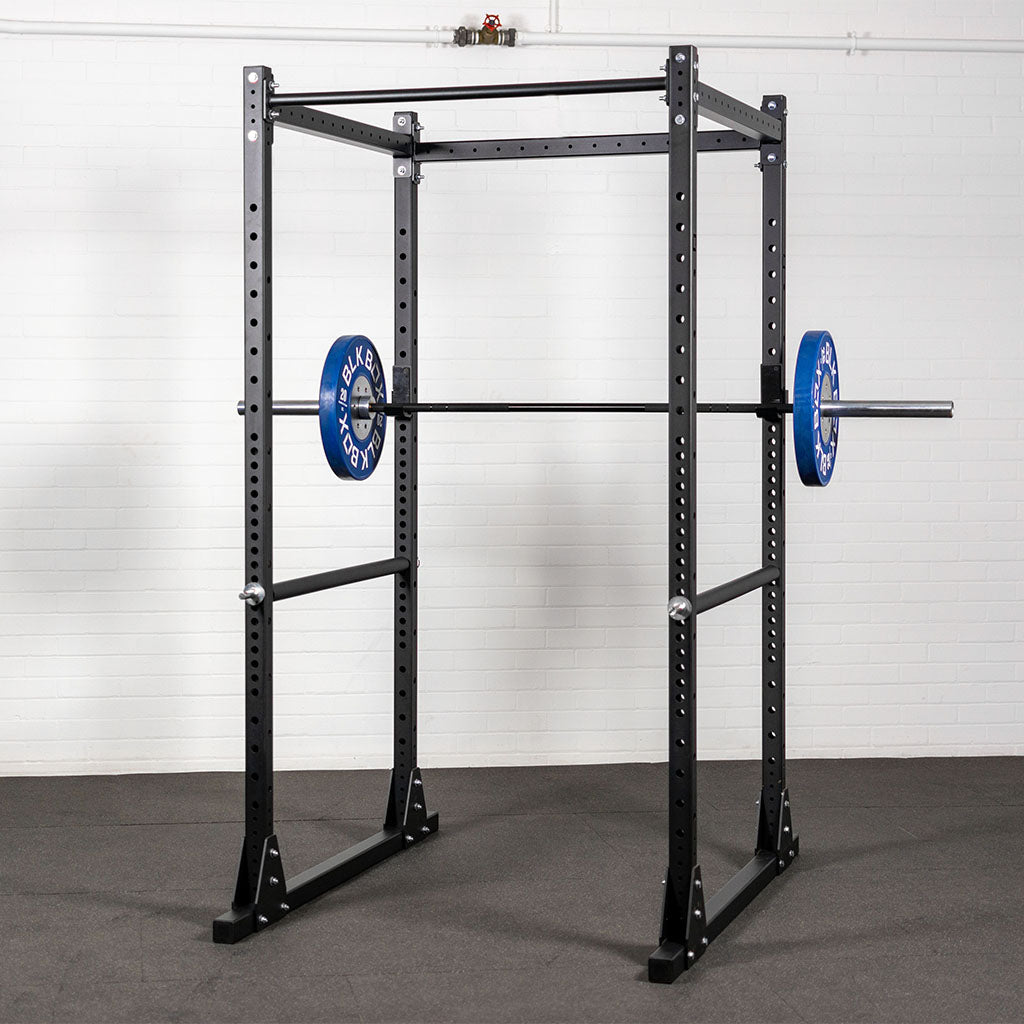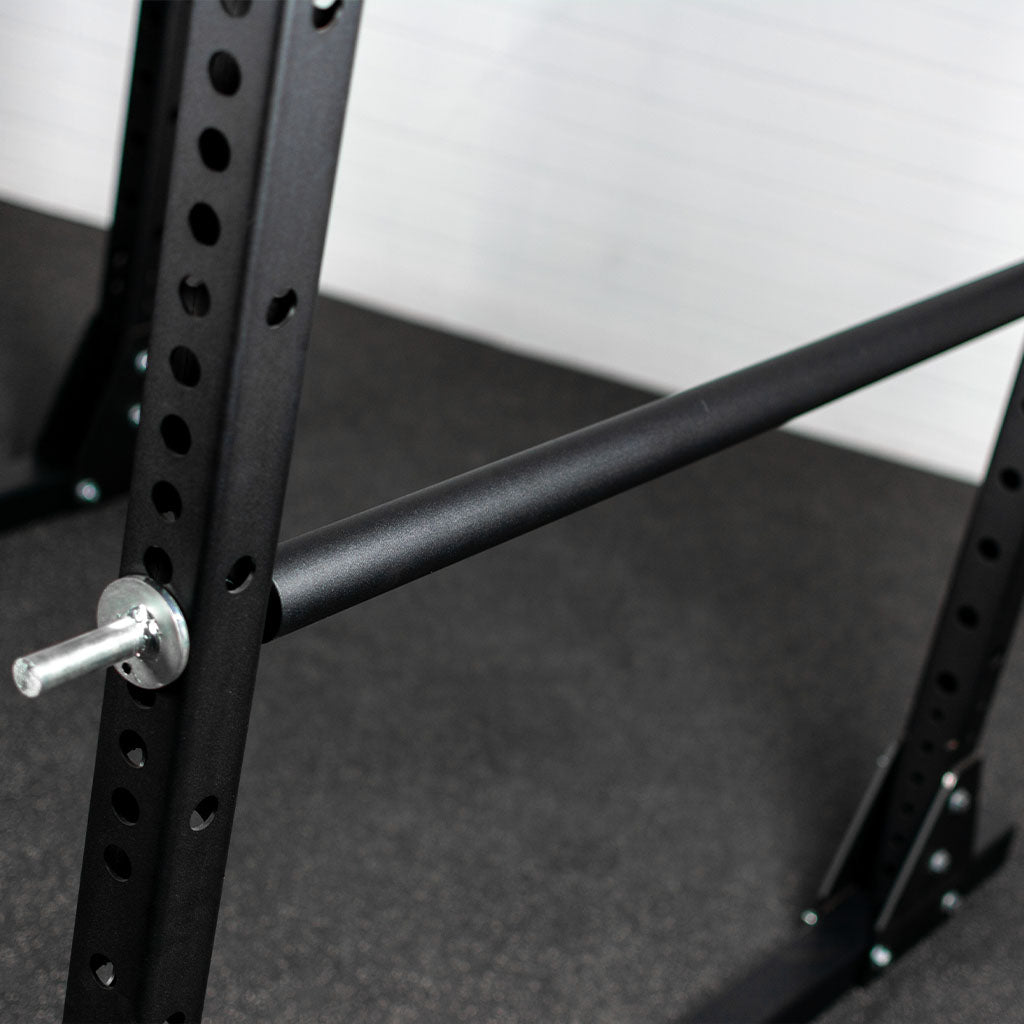 BLK BOX Blackout Free Standing Power Rack with Pin Pipe Safeties
50-0318
Regular price
£885.00
/
Tax included.
Lifetime structural guarantee
You will earn points on this product
Please note: The lead time for this product is approx. 15 working days. To keep track of when your item is ready to ship, please check the online order tracker.
Designed and manufactured in Belfast, the BLK BOX Blackout Free Standing Power Rack with Pin Pipe Safeties is space-efficient and offers users two training stations in one cage, while simultaneously providing the user with security when needed most during their workout.
The Blackout Range is our most economical range available. It has been created for those who want a heavy duty, high quality, locally manufactured product, fast. We keep the blackout range in stock, all the time.
The Blackout Range is also totally compatible with all of our Goliath attachments, the only difference is that we only offer this range in black and offer a reduced height for those with height restrictions in their facilities.
The BLK BOX Blackout Free Standing Power Rack is a power cage that will satisfy all your needs, making it the perfect addition to your facility. Standing at 2260mm tall and 1212mm wide, the BLK BOX Blackout Power Rack makes the most of limited space. Whether you want to train multiple clients during the same session or pack more into your garage conversion, this power rack is the perfect solution.
With this rack being a free standing rack it is very versatile and is capable of being maneuvered to your liking. It is ideal for users looking for sturdy equipment when bolting to the floor isn't an option.
The inclusion of a pair of Pin Pipe Safeties offers an extra safety aspect when training. Manufactured from high tensile mild steel, the BLK BOX Pin Pipe Safeties are extremely durable and have proven to protect both athletes and equipment when a spotter is not available. They are the perfect full length spotting bars that allow you to squat and bench press inside the rack safely.
A set of BLK BOX Utility J-Hooks (Pair) are also included with this squat rack alongside the pair of Pin Pipe Safeties.
The Blackout Range has been designed for home gyms, personal training studios, small group training facilities, sports teams, and schools in mind.
Construction:
Manufactured from start to finish in the Belfast HQ, the BLK BOX Blackout Free Standing Power Rack with Pin Pipe Safeties is constructed from a range of locally sourced high tensile steel. All steel in laser-cut on site before being welded and powder coated.
Constructed using our 60mm x 60mm x 3mm steel box section, the BLK BOX Blackout Power Rack is durable and is capable of withstanding everything you throw at it. It'll be the only rack you ever need to buy!
The BLK BOX Blackout Free Standing Power Rack with Pin Pipe Safeties undergo multiple processes of laser-cutting, welding and turning before entering our internal industrial paint line, going through various stages of washing, drying, and painting before coming out freshly baked in our signature black textured powdercoat finish.
The pins on the BLK BOX Pin Pipe Safeties are constructed from 20mm high tensile mild steel bar and are then zinc plated. Zinc plating provides a smooth anti-scratch surface, increases the lifespan of the product, strengthens the metals substrate, and stops moisture from penetrating the base metal, preventing rust.
Key Features Include:
Made in Belfast
Locally sourced laser-cut steel
Signature black textured powdercoat finish
Zinc plated bar
Compatible with all Goliath Attachments
Heavy duty
Ideal for training spaces with limited space
Free Standing
*Users should be cautioned against dropping heavy loads on the Pin Pipe Safeties in order to protect the integrity of their barbells*
We aim to dispatch and deliver all in stock items within 2-10 working days depending on your location in the UK & Ireland.
DELIVERY & TRACKING
We ship our orders via Parcel / 2 Man Delivery or Pallet depending on the size of your order and shipping fees will be calculated at checkout. To track your order click here for orders placed online; Track an Online Order and here for orders placed via our Sales team; Track an Offline Order
PALLET DELIVERY
All deliveries are kerbside, it will be your responsibility to remove the items from the pallet on arrival and dispose of the pallet. You will receive an email from our Logistics team with a date of delivery. If you require an alternative delivery date or if there are any access restrictions to your property, please let us know within 24 hours before delivery by emailing team@blkboxfitness.com. Please be aware failure to do so may result in additional delivery charges.
MANUFACTURED ITEMS
Some of our training equipment is manufactured here in our HQ. The lead times on these products range from 25-35 working days and are identified by having the MADE IN BELFAST badge.
RETURNS
We understand at times due to size, colour or type some items might not be the right fit for you. We are happy to accept a returned item within 30 days from the date of you receiving the item for a refund or exchange.
To start a return click here; BLK BOX Returns