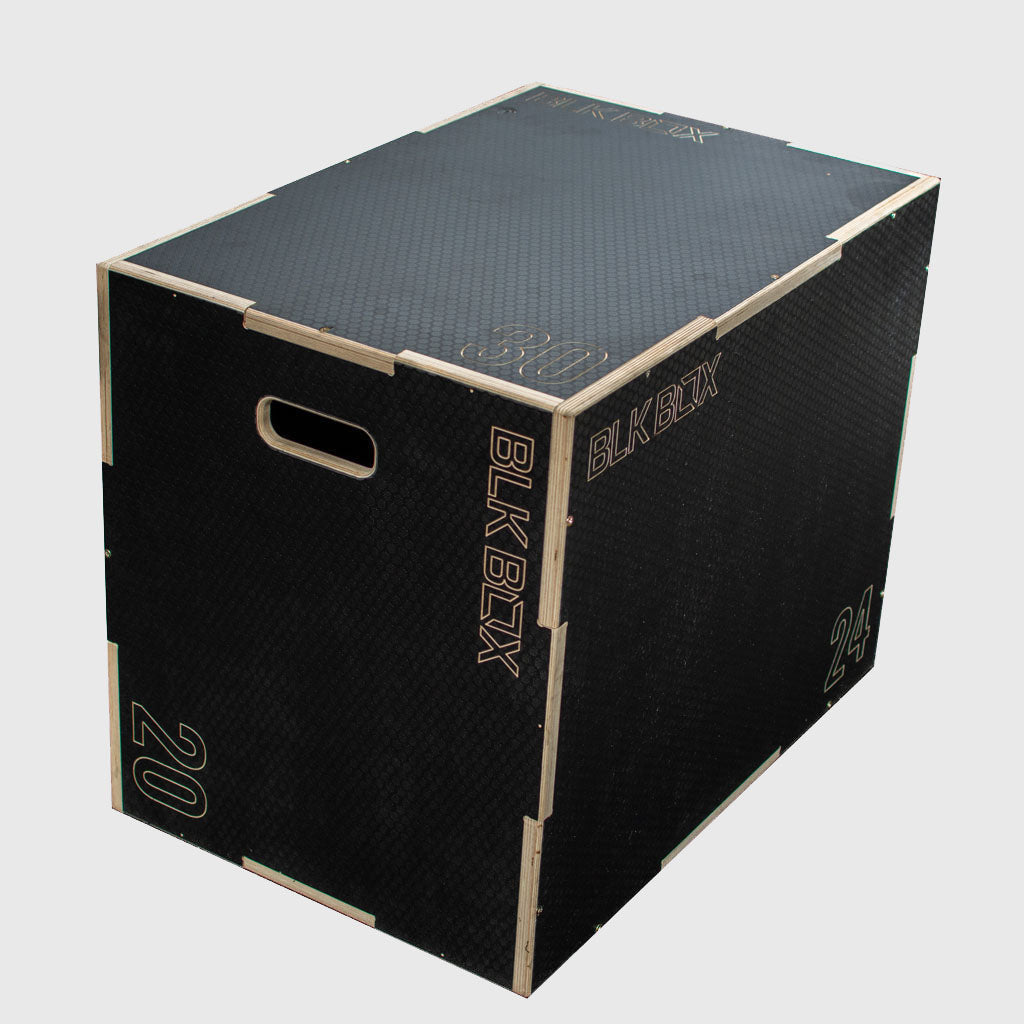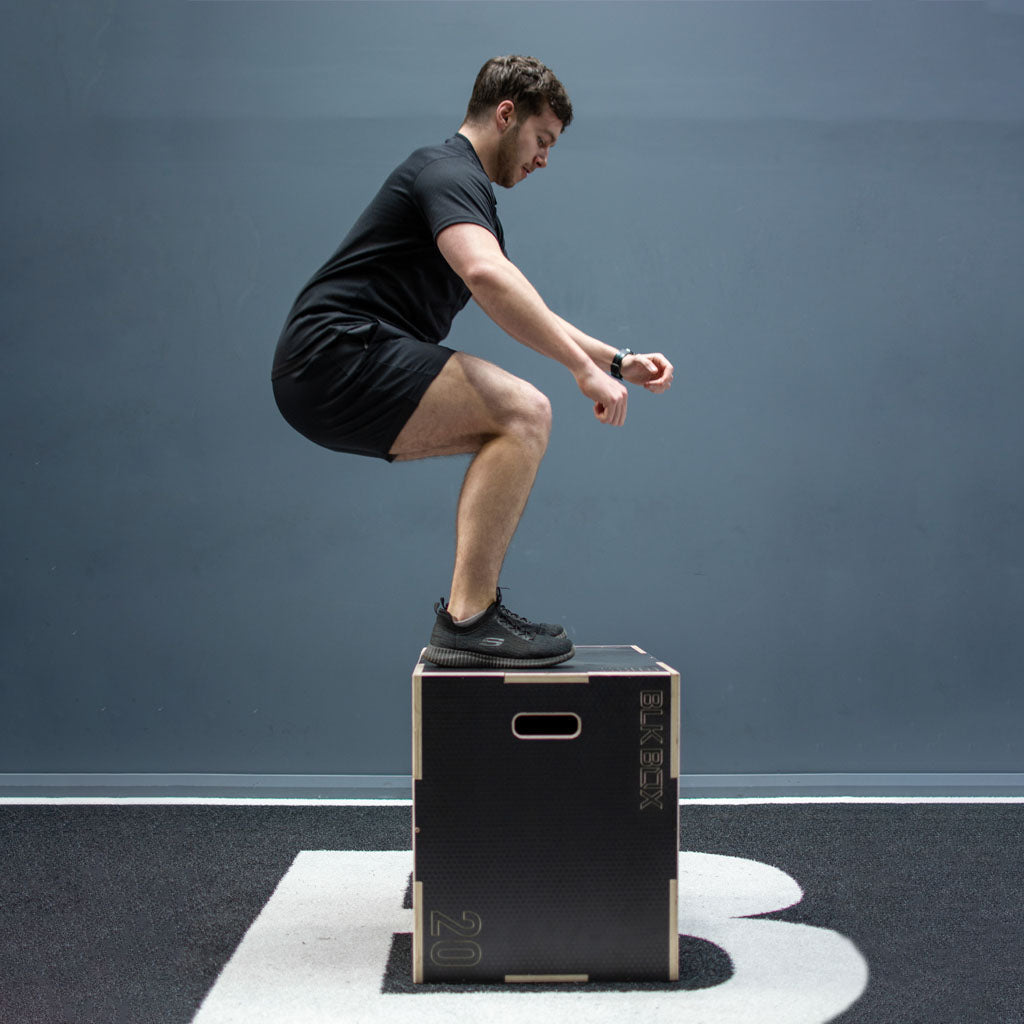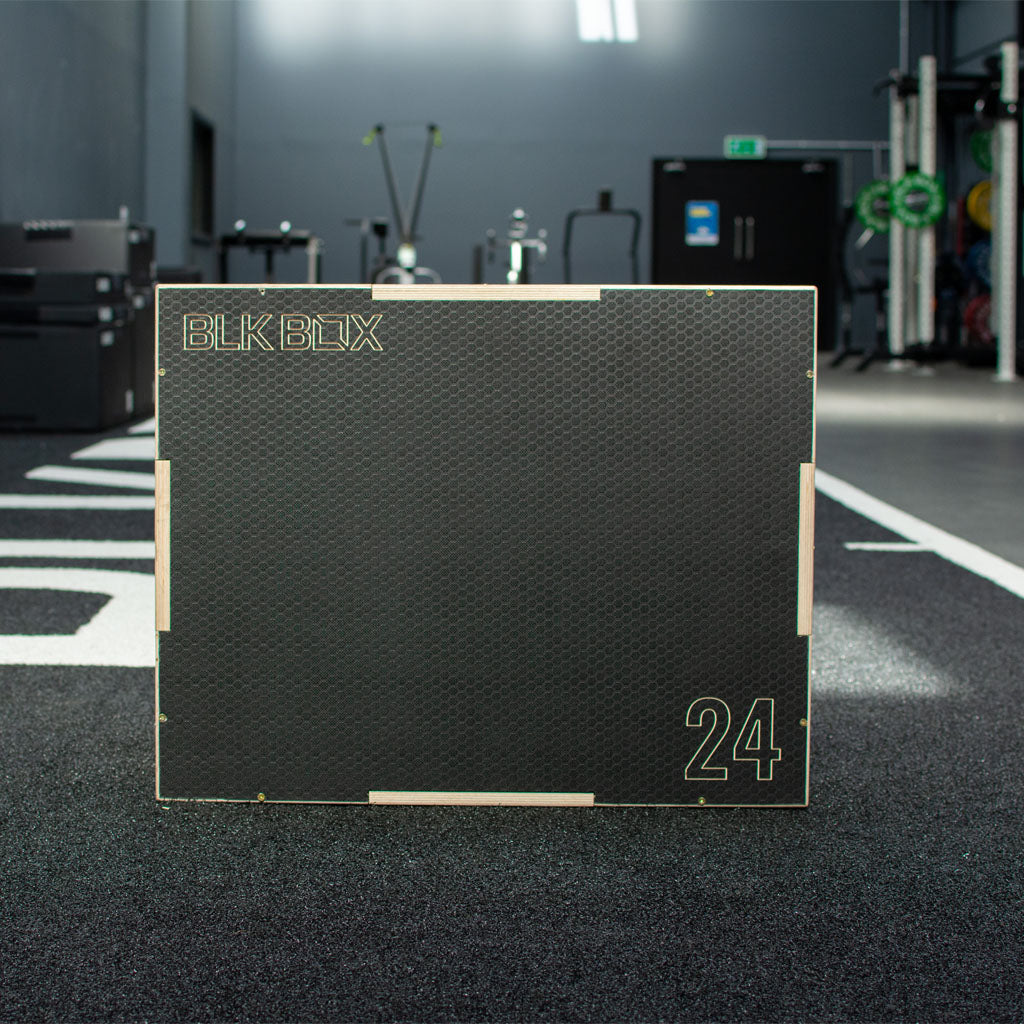 BLK BOX Heavy Duty Anti-Slip 3-in-1 Wooden Plyo Jump Box
16-0827
Regular price
£269.00
/
Tax included.
You will earn points on this product
The BLK BOX Heavy Duty Anti-Slip 3-in-1 Wooden Plyo Jump Box offers a unique anti-slip texture for instant traction when jumped onto. The CNC machined pattern on the boxes surface ensures additional stability and safety during use, preventing your box moving on smooth surfaces, and your feet slipping when landing on.
The Plyo Box is the perfect piece of equipment for versatile jump and speed training, ideal when looking to improve an athletes speed and power. In addition to plyometric jumps, the 3in1 Plyo Jump Box can be used for step ups, box squats or negative jumps.
Plyometric jumps are ideal for strengthening the glutes, quads, calves and hamstrings, while also getting that heart rate up offering a great cardio option. Box squats allow an athelte to break their squat into two dynamic movements, an eccentric lowering phase, and a concentric lifting phase. Utilising the 3in1 plyo for this reason can allow atheltes to overload either phase. Alternatively it can be used to adjust and improve an atheltes technique, or to place additional emphasis on the hamstrings and glutes.
The BLK BOX Heavy Duty Anti-Slip 3in1 Wooden Plyo Jump Box is constructed of hardened plywood, and is internally braced for maximum strength. Shipped in flat pack form, the box includes all of the fasteners needed, but a cross-head screwdriver will be required to install.
The use of 18mm thick, solid, birch plywood ensures a significant weight for increased stability, while the ergonomic handles ensure it can still be picked up and moved around. Measuring 30 inches x 24 inches x 20 inches the 3in1 Plyo offers built in progression, and weight plates can be added on top for an even higher jump.
Each plyo box is CNC machined for a perfect fit, and the bevelled edges are sanded down to prevent scrapes on missed jumps. The box is also designed with interlocking joints to ensure even greater strength and durability.
The black finish offers a sleek and subtle style to match any facility. And the addition of the anti-slip coating on the wooden plyo creates positive traction to reduce the possibilities of falling or slipping, therefore reducing the risk of injury to the athlete.
*Self-assembly is required (all parts/fixings included).*
Key Features:
18mm thick plywood with internally braced for ultimate stability
3 jumping heights of 30 inches, 24 inches and 20 inches
Bevelled and sanded edges to reduce the pain of missed jumps
Offer of additional training options to level up your lower body training
Anti-slip coating for additional safety and security, stopping feet slipping on the box, or the box slipping on the floor
Countersunk holes for hidden screw heads
We aim to dispatch and deliver all in stock items within 2-10 working days depending on your location in the UK & Ireland.
DELIVERY & TRACKING
We ship our orders via Parcel / 2 Man Delivery or Pallet depending on the size of your order and shipping fees will be calculated at checkout. To track your order click here for orders placed online; Track an Online Order and here for orders placed via our Sales team; Track an Offline Order
PALLET DELIVERY
All deliveries are kerbside, it will be your responsibility to remove the items from the pallet on arrival and dispose of the pallet. You will receive an email from our Logistics team with a date of delivery. If you require an alternative delivery date or if there are any access restrictions to your property, please let us know within 24 hours before delivery by emailing team@blkboxfitness.com. Please be aware failure to do so may result in additional delivery charges.
MANUFACTURED ITEMS
Some of our training equipment is manufactured here in our HQ. The lead times on these products range from 25-35 working days and are identified by having the MADE IN BELFAST badge.
RETURNS
We understand at times due to size, colour or type some items might not be the right fit for you. We are happy to accept a returned item within 30 days from the date of you receiving the item for a refund or exchange.
To start a return click here; BLK BOX Returns