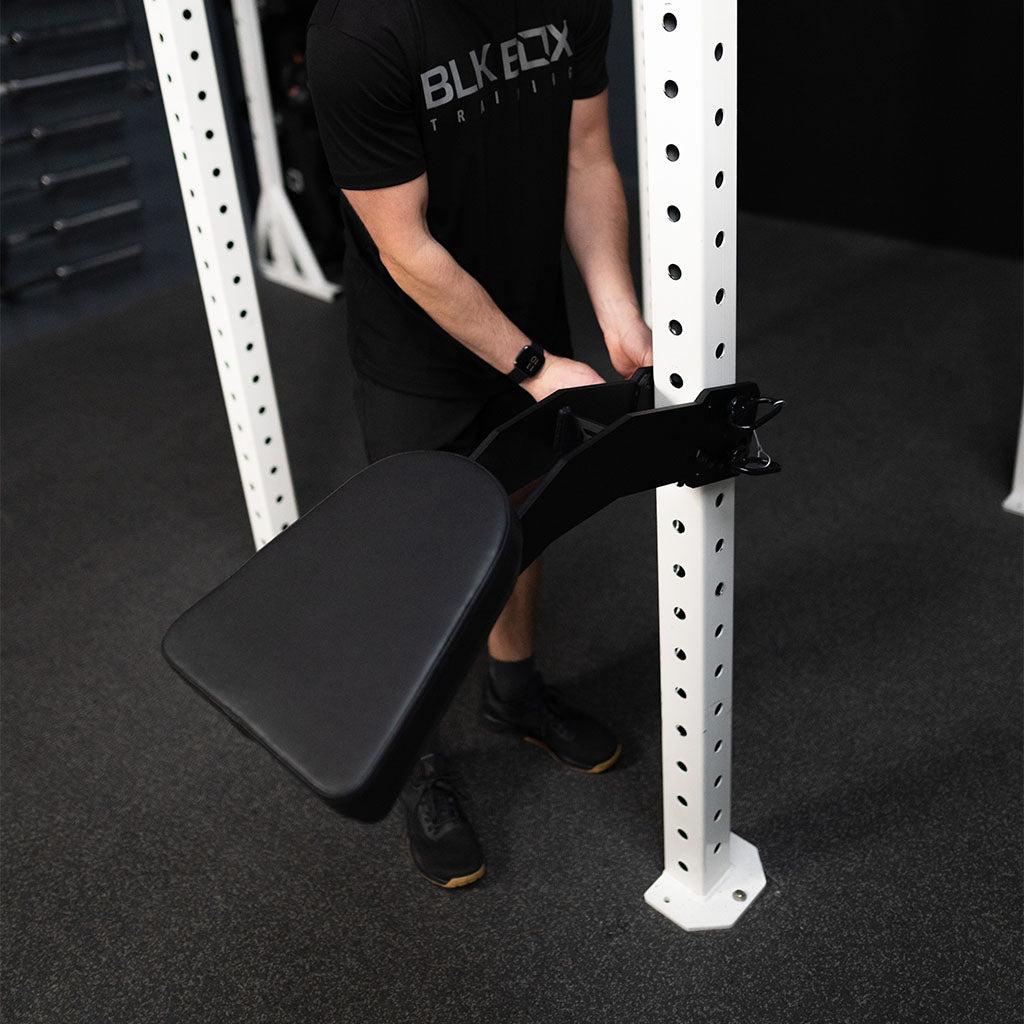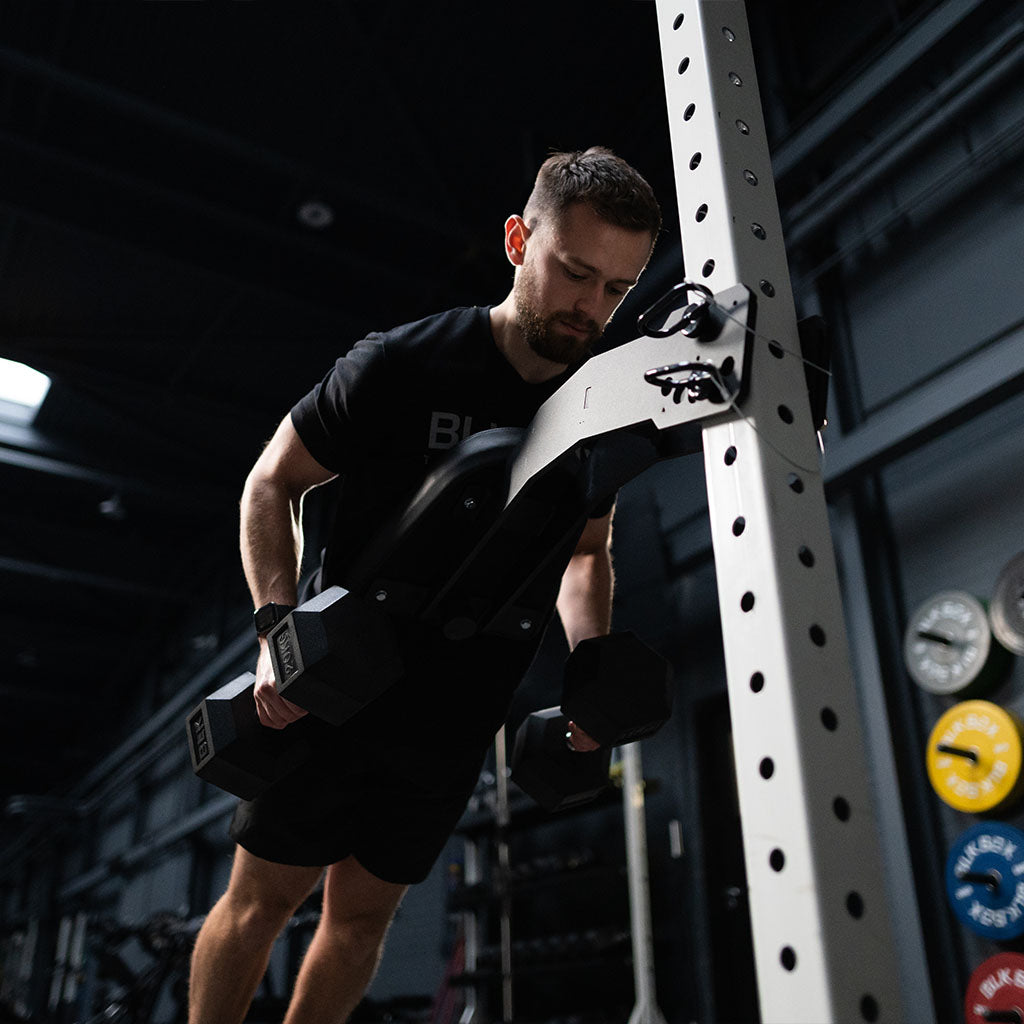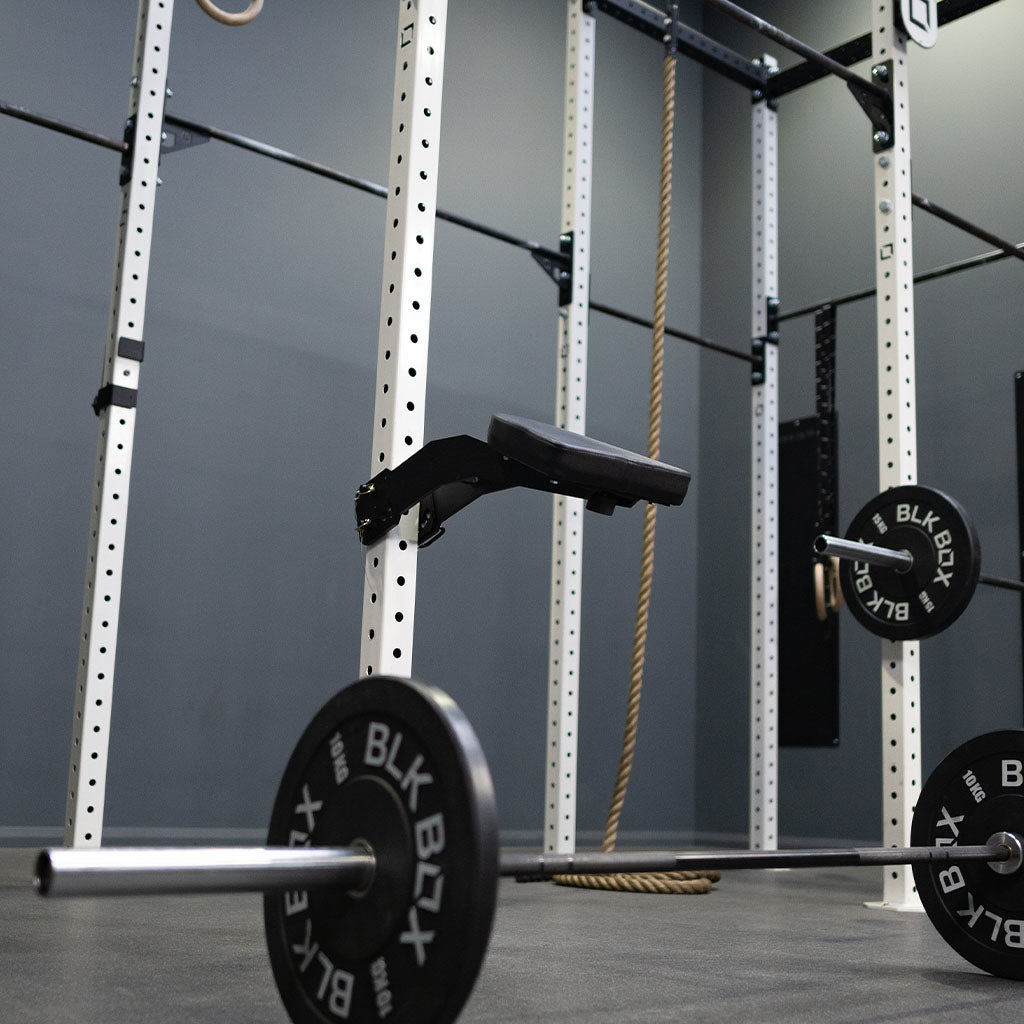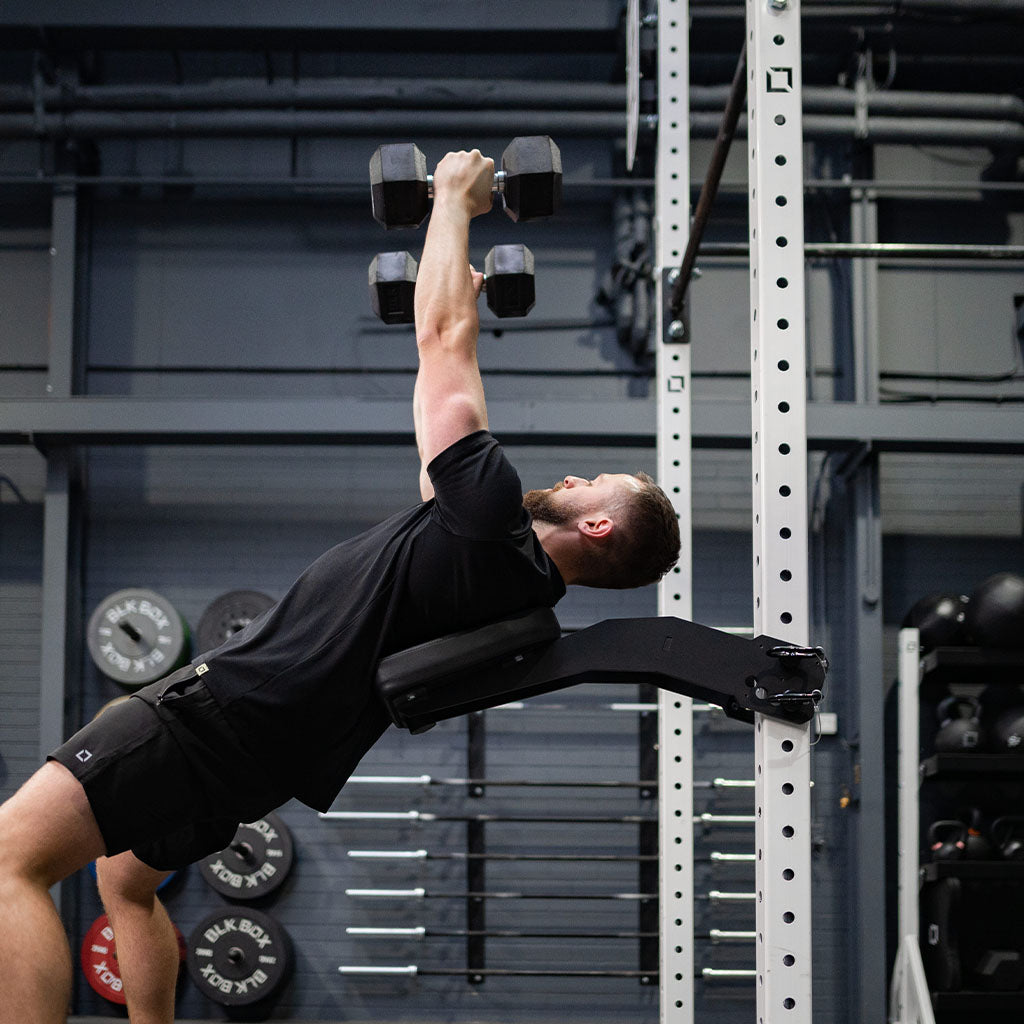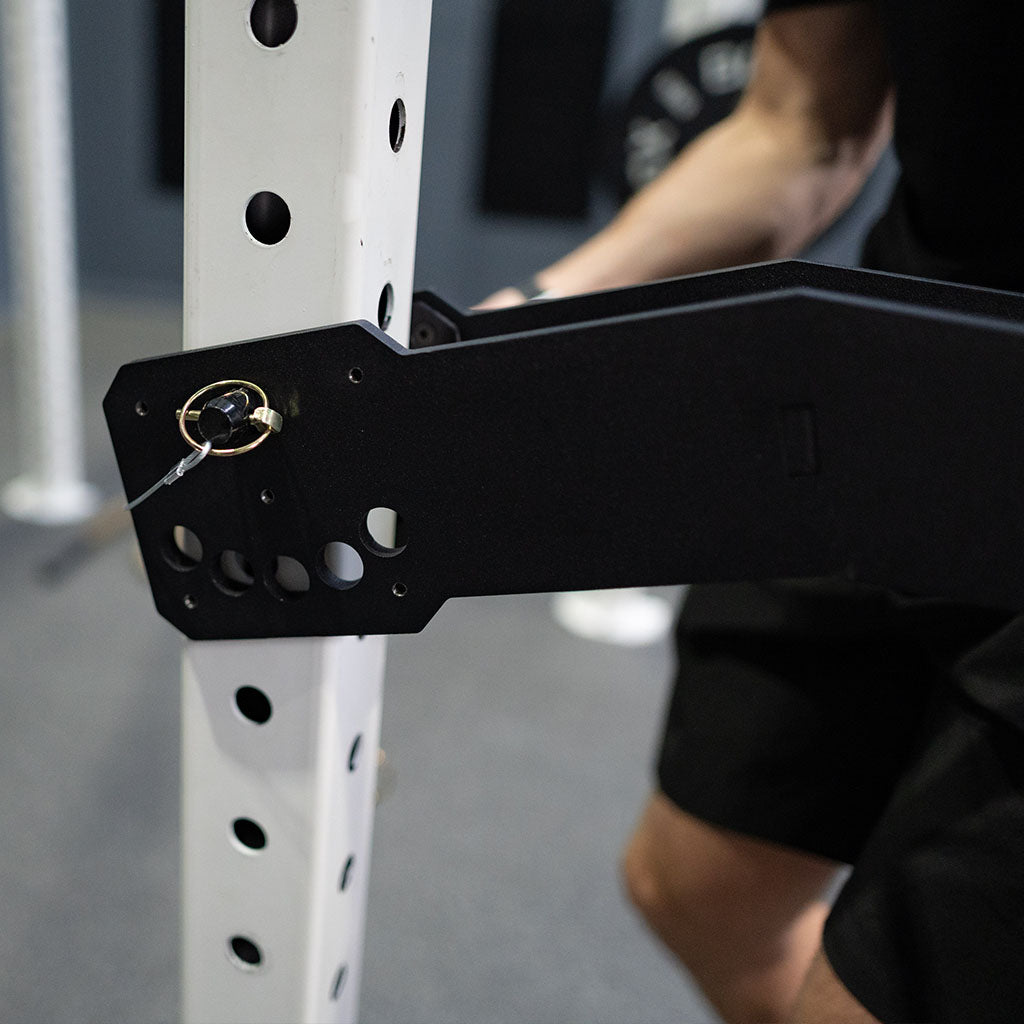 BLK BOX Goliath Pivot
21-1301
Regular price
£420.00
/
Tax included.
Lifetime structural guarantee
You will earn points on this product
Please note: The lead time for this product is approx. 15 working days. To keep track of when your item is ready to ship, please check the online order tracker.
Designed and manufactured in Belfast, the BLK BOX Goliath Pivot is a must-have for athletes looking to up their strength game in unprecedented ways. Easy to attach and adjust on any BLK BOX Goliath Rig and Rack, the BLK BOX Goliath Pivot is attached on to the rack using two hitch pins, the top one acts as a pivot and the bottom one acts as a selector pin for the various adjustable positions. Our hitch pins use a protective PVC coating that allow for better grip and enhanced durability.
Being able to adjust the height of the attachment means that it is suitable for any user and opens even more exercises. Perfect for any athlete!
The BLK BOX Goliath Pivot, with its ultra-compact design, allows you to store it away with ease when not in use. As well as this it can be left on the upright in its stored down position without causing much of an obstacle at all! Its small footprint means it is perfect for those looking to utilise their gym space as efficiently as possible.
The BLK BOX Goliath Pivot has 5 working positions ranging from 10°, 30°, 50°, 70° and 90° (Horizontal) off the vertical upright. These adjustments can support the head, back, arms, legs, or feet for that extra stability needed during multiple movements. The more stable you are when performing an exercise, the more weight you can move!
The addition of the BLK BOX Goliath Pivot will open a wide array of exercises including dumbbell chest flys, dumbbell chest supported row, barbell chest supported row, dumbbell chest supported rear flys, single arm dumbbell row, chest supported spider curls, single arm dumbbell preacher curl, single leg squat, box squats and many more.
Construction:
Made from start to finish in our HQ here in Belfast, the BLK BOX Goliath Pivot is constructed from a range of locally coursed laser-cut steel. 8mm thick mild steel plate is the main material used for this product.
After being laser-cut and welded by our in-house fabrication teams, the BLK BOX Goliath Pivot enters our internal industrial paint line, going through various stages of washing, drying, and painting before coming out freshly baked in our signature black textured powdercoat finish.
The textured powdercoat finish means the product is easy to grip, aiding the attachment and detachment process.
The high quality pad is 340mm at the bottom and narrows to 240mm at the top, with a length of 350mm.
Key Features:
Made in Belfast
Compatible with both Goliath Rigs & Rack
Locally sourced laser-cut steel
Textured powdercoat finish
Nylon pads each side of the upright to protect the upright
Quick and easy to attach and adjust
Adjustable height to suit any user and exercise
Opens an array of exercises within a small footprint
Rubber buffer prevents damage to the upright
We aim to dispatch and deliver all in stock items within 2-10 working days depending on your location in the UK & Ireland.
DELIVERY & TRACKING
We ship our orders via Parcel / 2 Man Delivery or Pallet depending on the size of your order and shipping fees will be calculated at checkout. To track your order click here for orders placed online; Track an Online Order and here for orders placed via our Sales team; Track an Offline Order
PALLET DELIVERY
All deliveries are kerbside, it will be your responsibility to remove the items from the pallet on arrival and dispose of the pallet. You will receive an email from our Logistics team with a date of delivery. If you require an alternative delivery date or if there are any access restrictions to your property, please let us know within 24 hours before delivery by emailing team@blkboxfitness.com. Please be aware failure to do so may result in additional delivery charges.
MANUFACTURED ITEMS
Some of our training equipment is manufactured here in our HQ. The lead times on these products range from 25-35 working days and are identified by having the MADE IN BELFAST badge.
RETURNS
We understand at times due to size, colour or type some items might not be the right fit for you. We are happy to accept a returned item within 30 days from the date of you receiving the item for a refund or exchange.
To start a return click here; BLK BOX Returns