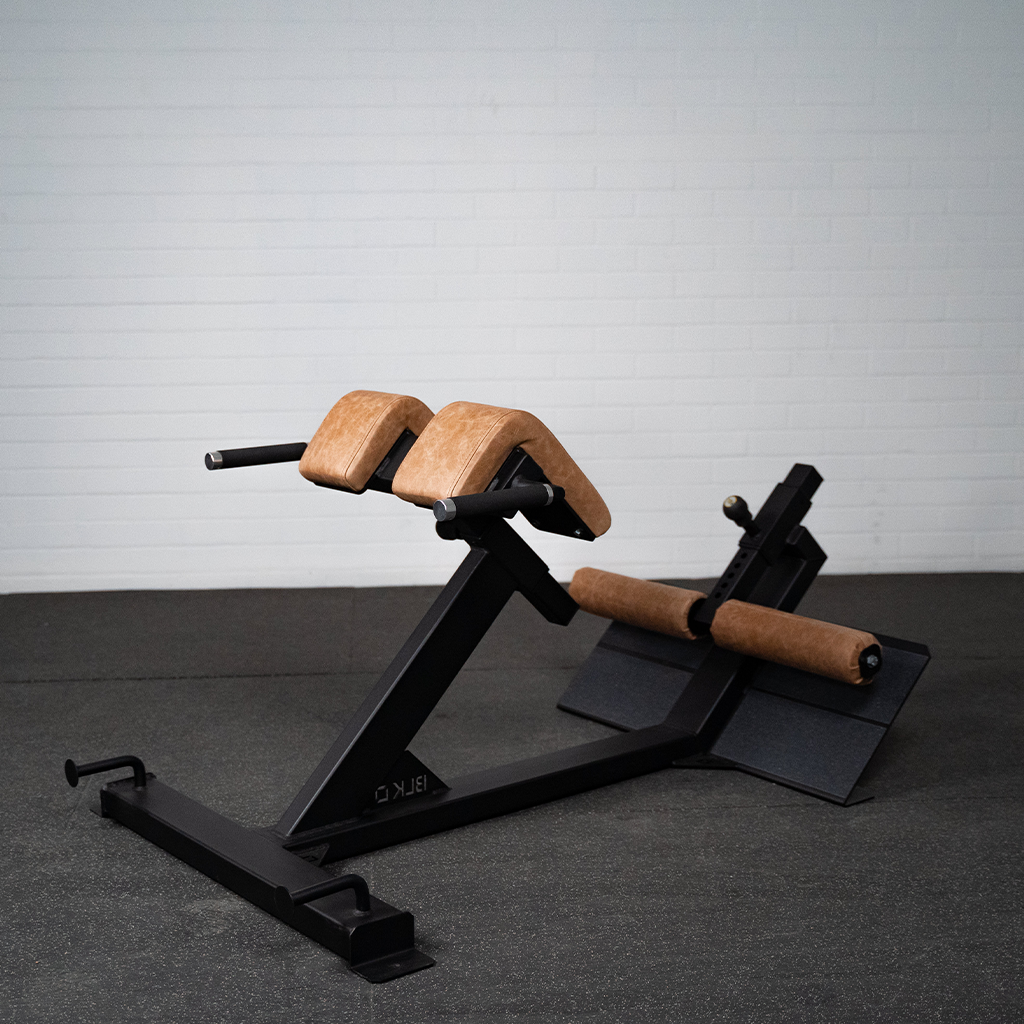 BLK BOX 45 Degree Hyper Extension
21-0623
Regular price
£1,290.00
/
Tax included.
Lifetime structural guarantee
You will earn points on this product
Please note: The lead time for this product is approx. 15 working days. To keep track of when your item is ready to ship, please check the online order tracker.
Heavy duty and fully adjustable, the BLK BOX 45° Hyper Extension is a vital but understated piece of training equipment. It can be used to strengthen lower back muscles for peak sporting performance, whilst also easing or preventing spinal issues.
Dual foot rollers clamp feet in place comfortably, while allowing you to steer into the perfect angle. Both thigh pads and ankle rollers are fully adjustable, with seven heights available on the feet pads, and nine on the thigh supports.
Using the BLK BOX 45° Hyper Extension offers the user to complete a hinge variation exercise in order to get adequate hip flexion and extension. Using this piece of equipment will strengthen the athletes posterior chain and can be used as an assistance movement to improve the squat and deadlift totals.
Manufactured from start to finish at BLK BOX HQ, the BLK BOX 45° Hyper Extension incorporates the use of locally sourced laser-cut mild steel. This laser-cut steel offers stability and durability for the user throughout the entire duration of their workout. All steel is laser-cut on-site, before being welded, powder coated and assembled. A large number of parts are welded using robotic welding, while some parts require the detailed touch of our in-house welding team.
The high-density foam used on the 45° Hyper Extension offers the athlete a firm and stable cushioning throughout their exercise. High density foam padding features a highly durable vinyl leather cover, and offers a comfortable, firm and secure experience for the user. It can be easily wiped down and cleaned when necessary.
The BLK BOX 45° Hyper Extension is coated in our signature textured anti-scratch powdercoat finish. It enters our internal industrial paint line, going through various stages of washing, drying, and painting before coming out freshly baked.
The 45° Hyper Extension also features rubber grip handles which allow the user to self-spot.
We aim to dispatch and deliver all in stock items within 2-10 working days depending on your location in the UK & Ireland.
DELIVERY & TRACKING
We ship our orders via Parcel / 2 Man Delivery or Pallet depending on the size of your order and shipping fees will be calculated at checkout. To track your order click here for orders placed online; Track an Online Order and here for orders placed via our Sales team; Track an Offline Order
PALLET DELIVERY
All deliveries are kerbside, it will be your responsibility to remove the items from the pallet on arrival and dispose of the pallet. You will receive an email from our Logistics team with a date of delivery. If you require an alternative delivery date or if there are any access restrictions to your property, please let us know within 24 hours before delivery by emailing team@blkboxfitness.com. Please be aware failure to do so may result in additional delivery charges.
MANUFACTURED ITEMS
Some of our training equipment is manufactured here in our HQ. The lead times on these products range from 25-35 working days and are identified by having the MADE IN BELFAST badge.
RETURNS
We understand at times due to size, colour or type some items might not be the right fit for you. We are happy to accept a returned item within 30 days from the date of you receiving the item for a refund or exchange.
To start a return click here; BLK BOX Returns